Materials
For full details about the Artists At the Center grant, please read the full guidelines.
The guidelines are also availabile in the following languages:
We have interpreters who can speak to you in your language, including American Sign Language. Just call us and tell us what language you speak. Expect a short pause while we find an interpreter to join the call.
Read Frequently Asked Questions (FAQs).
Information Sessions
Learn more about this opportunity and how to turn in your strongest application. We highly encourage first-time applicants to attend one of these hybrid sessions. Here's a recording of the June 1 session.
Session 2
Saturday, June 17, 10 - 11 a.m.
In-Person: Seattle Center Armory
Virtual: Webex
RSVP
Eligibility
Performing arts disciplines of all genres may be considered, including music, dance, theatre, spoken word, cultural exhibitions, hands-on-learning experiences, and multi-disciplinary projects.
Visual art exhibitions are not the intended use of this grant, however, may be an element if included as part of a larger performance.
A successful pop-up performance is nimble, eye- and ear-catching, requiring minimal or low-tech needs, and can be loaded in and out swiftly. Works can be pre-existing or generated new for this opportunity.
This program is best suited to solo, duo and small group performing acts. Groups larger than 8 or 10 people may be considered, but there is limited availability of slots for groups of that size.
Funding
Applicants can apply for the following levels of funding:
$2,000 award (typically 1-2 performers), plus $600 in-kind production support
$4,000 award (typically 3-5 performers), plus $1,100 in-kind production support
$6,000 award (typically 6+ performers), plus $1,600 in-kind production support
Due Date
Tuesday, June 27, 2023, 5 p.m. Pacific
Please allow ample time to complete your application; applications submitted after the deadline will not be accepted.
Project
These pop-up performances are intended to be about an hour long, with some flexibility to go shorter or a bit longer. The expectation is that awardees will provide a single performance (we have budget to cover tech support for one performance). If you would like to do multiple dates you'll want to discuss with your project managers at the Office of Arts & Culture (ARTS) and at Seattle Center and that might be possible (especially if you don't need tech support for multiple dates.)
The time of day for performances can vary (weekday, weekends, daytime, evening) but one hope is that some of these performances will take place prior to Climate Pledge Arena events as folks are coming onto campus. Similarly, focus will be given to booking your performance on days in which there is large activity/crowds on campus. But events don't have to happen exclusively on those days. We'll work with you to find the best date for all parties involved.
Seattle Center will market on its website, social media channels, and campus digital signage. ARTS and community partners will also lend social media support. Artists should plan to send out invites and make promotional efforts themselves, using a toolkit provided to them.
A photographer will be provided who will document each performance. All photos will be available for artists to use, and photos will be archived by ARTS.
Selection
You will be selected to perform in a seasonal slot: Fall, Winter, Spring or Summer. The selection committee will base the yearly schedule off of your first or second preference indicated in your application proposal. Changes to your allotted seasonal slot can sometimes be accommodated with advance conversation.
Performance location options vary and will correlate to the space that is best for your project and which is available at the desired performance date/time. Seattle Center will work with you to identify the best available space as well as dates for your event. Typical spaces may include (but are not limited to): Seattle Center Armory Stage, Northwest Courtyard, Theatre Commons, Founders Courtyard, Artists at Play Playground, Monorail Station Platform, Fisher Pavilion Rooftop, Mural Amphitheatre.
If there is not a requirement for technical equipment there may be some flexibility. Selected artists should work with Seattle Center to confirm any limitations of where they can perform based on artists' proposals, other events happening on campus, goals of the program and ADA requirements.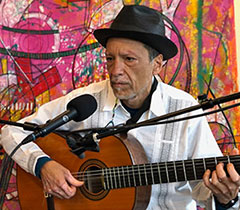 It was very good for our group to do this project. Being part of a city project helps raise our profile. — August Denhard, Trío Guadalevín