Exhibition Schedule
Exhibitions curated by the Ethnic Heritage Art Gallery can be seen on the third floor of the Seattle Municipal Tower. Learn more on the current exhibit below and take a look at what we have coming in the future. Interested in joining the roster? Visit the Office of Arts and Culture
"Selected Works" by Lawrence Pitre (October 2019- January 2020)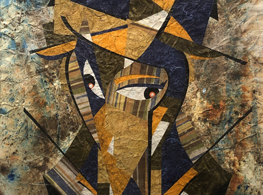 Extending from a spiritual rebirth to reestablishing an artistic voice, this collection is a mixed medium between acrylic paints and fine paper giving the composition a collage effect. Using a variety of techniques Lawrence covers a broad spectrum of subjects which represent growth and opportunity. The colors used for each composition are vivid and displays a textured look giving each piece depth, character and meaning.
Featured Events
More than 50 local artists of color reflect on what it means to be free.
Opening reception: November 7, 2019, 5-7pm at King Street Station
303 S Jackson Street, Top Floor.
Free to the public
Featuring 100 artworks including paintings, photography, sculpture, print, video and four installations.
Personal information entered on this form is subject to Washington Public Records Act, and may be subject to disclosure to a third-party requestor. At the City of Seattle, we are committed to protecting your privacy and will ensure that any disclosures are done according to law. To learn more about how this information is managed please see our Privacy Statement.